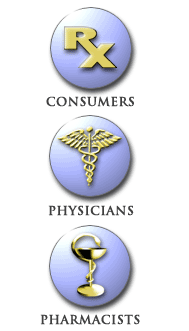 For Consumers
Too many people are over medicated. They suffer over 10 million severe drug reactions a year!


Combining prescriptions, supplements, and over-the-counter medicines is dangerous, wasteful, and very costly.


Our pharmacists are here to help. We will review ALL of your medicines. We help you learn more about your medicines. You gain greater control.


We provide you with accurate medication information. Now a days too much information available on line. What do you believe? What should you really do?


The term for our care is Medication Therapy Management. We improve outcomes. Pharmacists are highly educated. They are experts in pharmacology (the study of medicines on the biochemistry of the body).


Their skill set can be highly beneficial to you. We make our services available to everyone! Don't miss out. You have too much at stake. Chemistry is too complicated for you to figure on your own.


See FAQs.



For Practitioners
We help you to improve outcomes by providing pharmacology consults.


It is important to us that our services dovetail smoothly and respectfully with the care that you provide.


We coordinate and communicate medication therapies between practitioners. This saves you time and is within our scope of care.


We educate and coach patients, which improves adherence and saves you time.