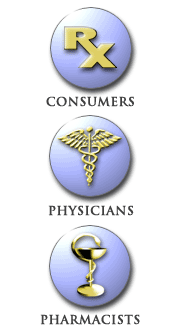 For Consumers
Combining prescriptions, vitamins, herbs, and over-the-counter medicines is dangerous.


Our pharmacists provide Medication Therapy Management & Information.


Too many consumers are over medicated - taking too many medicines from too many places without enough support or oversight.


Now you can hire your own Doctor of Pharmacy to review ALL of your medicines for safety, side effects, and waste including over-the-counter and herbals.


We interpret and apply medication information especially for you. We answer questions and provide personal information.


We help avoid and solve medication problems improving outcomes.


Our care is documented and provided to you in writing.


Manage your risk! Avoid over medciation. This is a huge issue. See FAQs.



For Practitioners
We provide you with consults like Cardiologists, Radiologists, Respiratory Therapists, etc. But ours are focused on Pharmacology. We are your pharmacology resource.


It is important to us that our services dovetail smoothly and respectfully with the care that you provide.


We coordinate and communicate medication therapies between practitioners.


Our consults are documented for your records.


We educate patients, which improves adherence and saves you time.