DONALD THIBODEAU
Doctor of Pharmacy
Founder and President of PillHelp, Inc.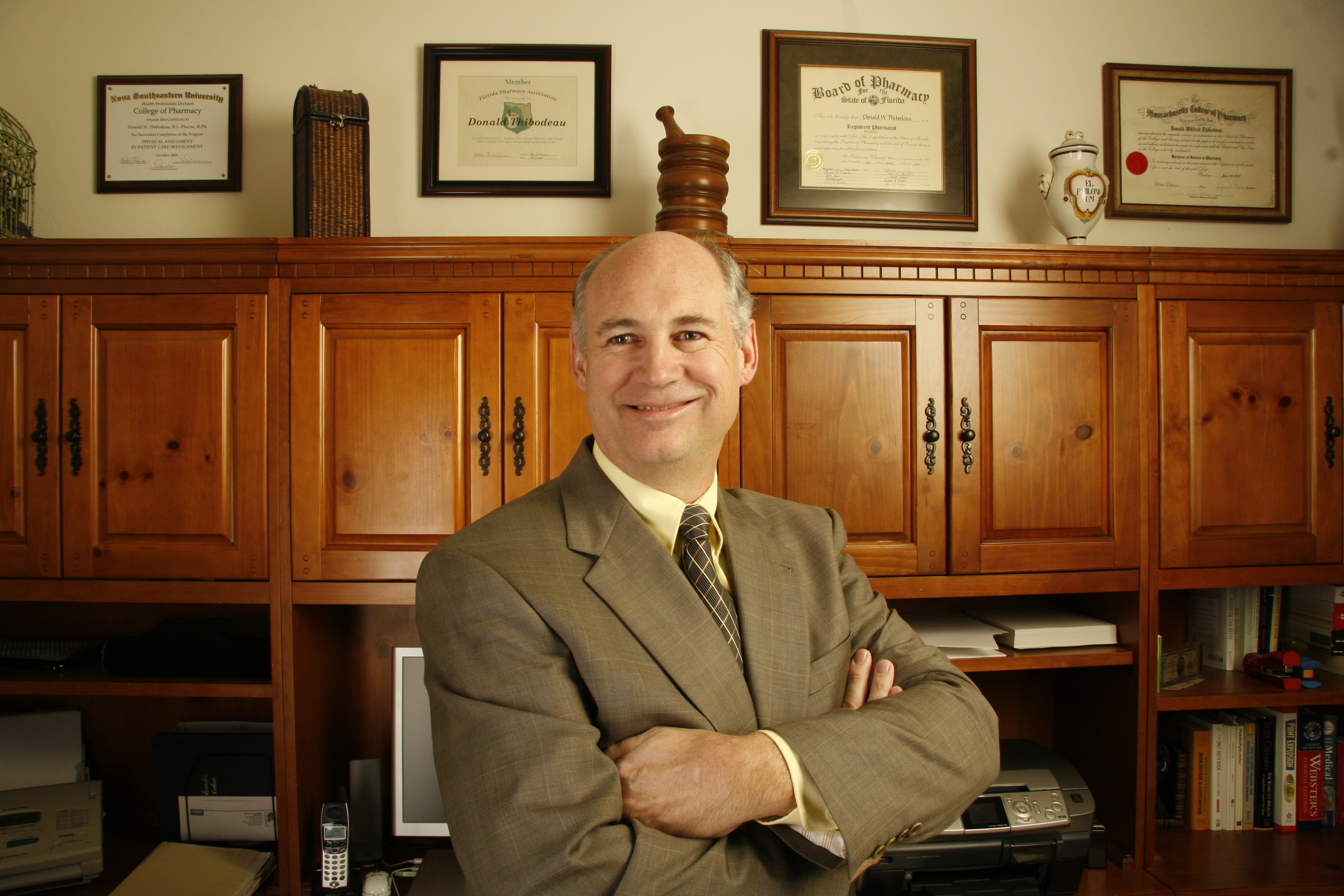 Experienced as a clinical pharmacist, Donald Thibodeau founded PillHelp, Inc. to help consumers take control of their medications. Healthcare has become fragmented. Each doctor is focused on his/her specialty. Patients are getting too many medications from too many sources, including mail-order for some of their prescriptions. Consumers are treating themselves with over-the-counter drugs, vitamins, and herbs. They rely on confusing information obtained online.
Doctors in hospitals often have Doctors of Pharmacy in-house with whom to consult. Community pharmacists simply do not have the availability to provide clinical care at the community level. PillHelp&reg, Inc. wants to change that.
Curriculum Vitae
Employment
In the first half of his career, Donald Thibodeau was an independent community pharmacist in New England. He built and managed two pharmacies. After selling them, he transitioned into hospital pharmacy. One of the highlights as Director of Pharmacy was to chair the Pharmacy and Therapeutics Committee, a position traditionally held by physicians.
From his hospital, position Dr. Thibodeau returned to the community setting. At that point he assumed a position as manager of a community pharmacy in Florida. He remained in this position until the pharmacy was sold. At that point he joined a chain pharmacy as pharmacist in charge of a new location in a rapidly developing area of southwest Florida.
Ultimately, Dr. Thibdoeau left traditional pharmacy. He now focusses only on medication therapy management and his concept to form a national network of pharmacists providing MTM to anyone who needs it.
In the mid-1990's, Dr. Thibodeau started providing out-patient medication management services for a fee (later known as MTM). This had been triggered by a local internist's referral of a patient for education services. The patient had become anxious about the treatment of his condition. His doctor suggested that he "hire" Dr. Thibodeau as a personal pharmacist consultant to handle his education about his new illness and his questions. He received an hour-long session for which he paid - without heistation. The fee was equal to slightly more than the usual hourly wage for a traditional pharmacist. Both the internist and the patient expressed satisfaction with his care. The experience convinced Dr. Thibodeau that there was a need and that it was worth a separate fee. Dr. Thibodeau then made the service available to everyone. He was pleasantly surprised that consumers were willing to pay for this type of care. Even though some patients needed fewer medications, more patients began selecting his pharmacy, and his business actually grew. This service became known as PillHelp ℠.

Relocating later in his career, Dr. Thibodeau managed a community pharmacy and simultaneously provided medication therapy management. He experienced the same results: Consumers were willing to pay a separate fee for pharmacist consultations, and the regular pharmacy business grew. The care has always been provided distinctly separated from the dispensing of prescriptions and other products.
In the early 2000's the service was formalized into PillHelp℠, Inc., By this same time a successful practice model had developed. The process was standardized and refined by Dr. Thibodeau' s continued use. Eventually the need to become more efficient led to the conversion of the practice model to a program developed by him called PillHelp Works ℠. This application proved comprehensive and provided everyting needed to establish a private general MTM practice. The application includes clinical data, medication lists, SOAP structure, care templates, full documentation, archiving, communication tools, unique sensitivity tool, and fees and billing processing.

At this same time, he launched an enhanced upgraded website with the intention of attracting a national team of pharmacists to care for patients in every state.
Education
Doctor of Pharmacy degree from Nova Southeastern University College of Pharmacy, Fort Lauderdale, Florida

Bachelor of Science in Pharmacy at Massachusetts College of Pharmacy in Boston, Massachusetts

Internship at Boston Medical Center (formerly Boston City Hospital) and Harvard Community Healthcare Center in Boston, Massachusetts.

Certification in Osteoporosis Management


Certification in Nutrition and Hyperalimentation from Harvard/Deaconess, Boston, Massachusetts


Certification in Orthopedic and Circulation Appliances

Certification for Immunization Administration

Certification in Ordering and Interpreting Laboratory Tests
Publications and Achievements
For a quick view of some publications and achievements, please select NEWS.. You will find some very practical articles on starting your own MTM practice there.

Other Experiences
Doctor Thibodeau has lectured continually on a variety of topics throughout his career including:
Medication Therapy Management, designing practice models, implementation and documentation, policies and procedures

Pharmacology, Practical Use in Everyday Pharmacy

Pharmacology for Nurses

"A Review of Cardiac Pharmacology" - wrote curriculum and presented this video seminar for a national nursing CE

Medication curriculum for nursing students

Use of medications in our school systems for teachers

"Understanding Medication"
- wrote curriculum and presented this 10 week course for adult education
---
"PillHelp Protects ...
Our pharmacists help consumers and physicians manage medications. Our services decrease risk and the financial impact of adverse events. We educate, support and enhance well-being."